With Representative Debra Lekanoff and Annie Forsman-Adams
Washington State Passes a Bill to Address this Crisis of Violence
Reclaiming Power and Place:  the Final Report of the National Inquiry into Missing and Murdered Indigenous Women and Girls  (Canada)
https://www.mmiwg-ffada.ca/final-report/
Federal studies show that Native women are murdered at rates greater than ten times the national average.  Murder is the third leading cause of death among Native women and girls between ages 10-24 and the fifth leading cause of death between ages 25-34.  According to the Urban Indian Health Institute, these rates may be significantly higher given the ongoing inequities in researching crimes against indigenous people.
In response to this crisis, Washington State Representative Debra Lekanoff spearheaded the drafting and passage of a bill to address the crisis of missing and murdered indigenous people in Washington State.   On March 31, 2022, Washington became the first state in the nation to pass legislation creating a statewide alert system for missing indigenous people.  The new alert system will allow for improved communication and coordination among tribal and non-tribal law enforcement to fight our state's growing crisis.
Representative Lekanoff explains the new legislation and answer your questions.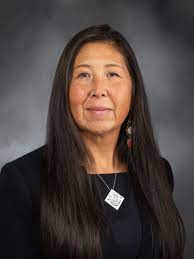 Representative Debra Lekanoff represents the 40th legislative district of Washington state, which includes parts of Whatcom, Skagit and San Juan counties. Sworn into the Washington State House of Representatives in January 2019, Representative Lekanoff is the only Native American woman to currently serve in the Legislature.
Representative Lekanoff has called the Skagit Valley home for almost 20 years. In addition to serving in the Legislature, Representative Lekanoff served as Governmental Affairs Director for the Swinomish Tribe. With over 20 years of government relations experience, she engages on a variety of issues at the international, federal, tribal, state, and local levels.
Representative Lekanoff is Vice Chair of the House State Government & Tribal Relations Committee. She also sits on the Appropriations Committee and the Rural Development, Agriculture & Natural Resources Committee.

Annie Forsman-Adams (Suquamish) started her career in the movement to end violence against indigenous people in 2011. Since that time she has remained a dedicated advocate and activist for systemic change to address the social inequities across Indian Country. Annie currently serves as the Policy Analyst for the Missing and Murdered Indigenous Women and People Task Force with the Washington State Attorney General's Office. Additionally, she is completing her graduate program at Seattle University, where she studies the intersection of homicide, gender, race and media. She lives on the Port Madison Reservation.