Our speakers will tell you all you want to know about the first ten years of the legalization of marijuana and how it has affected our state.
Speakers:
Dr. Josh Kaplan is an Assistant Professor, Western Washington University's Behavioral Neuroscience Program. His expertise is in neurophysiology, neuropharmacology, and animal behavior techniques, which his lab uses to study the therapeutic benefits and developmental consequences of cannabis in pre-clinical rodent models. His research seeks to optimize cannabinoid and terpene compositions to maximize benefit and minimize adverse consequences.
Dr. Kaplan earned his Ph.D. in Behavioral Neuroscience from Oregon Health & Science University in 2015 under the guidance of David Rossi, Ph.D. (Washington State University) and Deb Finn, Ph.D. (OHSU). His dissertation work revealed the mechanistic link between genetic risk for alcohol abuse to underlying brain mechanisms. His work highlighted the substantial role the cerebellum plays in mediating alcohol consumption.
Dr. Kaplan joined the lab of Bill Catterall, Ph.D., at the University of Washington for his postdoctoral fellowship. At UW, he researched the therapeutic efficacy and mechanism of cannabidiol (CBD) in a pre-clinical model of epilepsy and autism. His work demonstrated that CBD reduces seizures and rescues social interaction deficits by elevating inhibitory signaling the in brain. He also identified the GPR55 receptor as an important target in CBD's anti-epileptic effects.
At the completion of the CBD project, Dr. Kaplan joined the laboratory of Nephi Stella, Ph.D. (UW) to study ways of boosting the body's own cannabinoid system. His work demonstrated that boosting the brain's endogenous cannabinoid, 2-AG, by blocking one of its metabolic enzymes, can have therapeutic effects by increasing a tonically active form of brain inhibition.
Outside of the lab, Dr. Kaplan is a passionate science communicator and educator. He's written numerous articles for websites, consulted on documentaries, and spoken internationally on topics relating to cannabis science for all types of audiences. He was included in High Times' 100 Most Most Influential People in Cannabis in 2018 and the 2021 Edition of Cannabis Newsletter's 100 Most Influential People in Cannabis.
He also loves to run and explore new trails.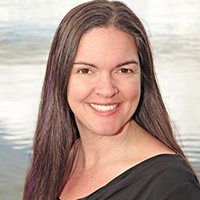 Danielle Rosellison is the co-founder of Trail Blazin' Productions. Licensed in 2014, Trail Blazin' is a majority female owned company, whose upper management employees are 100% filled by minorities. For people seeking physical and emotional relief, Trail Blazin' is the socially responsible cannabis provider of consistent and reliable medical grade products offering consumers viable alternatives to pharmaceuticals because LIFE'S GETTING BETTER. Cultivating award winning, pesticide free, medically certified, sustainably grown cannabis, Trail Blazin' is always on the leading edge of the fast-moving cannabis industry. #cannabisismedicine
Danielle is also a board member of The Cannabis Alliance, a non-profit dedicated to the advancement of a sustainable, ethical and vital cannabis industry. She spent 3 years as their first democratically elected president. When she's not working at Trail Blazin', she's trying to help shape intelligent cannabis policy through appropriate government channels. The Cannabis Alliance members span from farmers, retailers, labs and ancillary businesses as well as patients, consumers and veterans. This diverse membership allows The Cannabis Alliance to take a thirty-thousand-foot view of the situation and find a solution that makes sense for the entire cannabis community, and not just one or two sectors.
On a hyper local level, Danielle has been a board member for the Association of WA Businesses, an Ambassador to the Bellingham Regional Chamber of Commerce and has written for a variety of publications including Marijuana Venture.
In her spare time (ha!), she loves to travel, read, ski (or snowboard) and see live music with her kids and her best friend and husband, Juddy.