Ensuring Election Integrity in an Age of Hackers, BOTs and Voter Suppression
What is the state of our democratic process? Part 3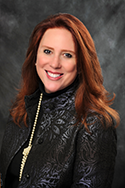 Washington Secretary of State Kim Wyman oversees our election process to ensure it is open and fair, which protects a fundamental right of citizenship. Secretary Wyman, who is an active member of the National Association of Secretaries of State, will offer insights into election security. Among the potential topics are awareness about voter fraud and suppression, as well as the state voting system's protections against hacking and technical sabotage.
Kim Wyman is Washington's 15th Secretary of State. First elected in 2012, she is serving her second term and is only the second female Secretary of State in Washington's history. She is also one of only two Washington Republicans in elected statewide office. Prior to being elected to this office, Kim served as Thurston County Elections Director for nearly a decade and was elected Thurston County Auditor from 2001-2013.
Secretary Wyman is a graduate of California State University, Long Beach and holds a Master's Degree in Public Administration from Troy State University. She was awarded an Honorary Doctorate in Leadership from City University, Seattle in 2015. Kim is a Certified Elections and Registration Administrator (CERA) from The Elections Center and Auburn University, and is a Washington State Certified Election Administrator.
---